About Us
We started Atma Connect to build resilience in vulnerable communities. We are a nonprofit technology company that creates solutions to empower users. We envision a world where neighbors help neighbors prepare for disasters, improve access to basic needs, and overcome chronic challenges.
"During the disaster response in Palu, I used AtmaGo to find info about help, evacuee camps, volunteering opportunities, and so on…" — Imelda, Sulawesi
After serving millions of users in cities across Indonesia, we launched AtmaGo in Puerto Rico at the end of 2019. AtmaGo allows users to share real-time information about local hazards like fire, floods and crime—and gain access to resources to grow their local economy, better educate their children, and support the health of their families.
Although many nonprofits are turning towards apps and mobiles, our hybrid approach to technology combines human centered design and the development of local citizen journalists who ensure that our platform is used to share solutions, take collective action, and build community resilience.
Our goal is to scale AtmaGo to connect and empower billions of underprivileged people in every region of the world so they can improve their communities from the ground up.
How Atma Connect Compares to others
AtmaGo solves the place-based needs of communities better than other social apps like Facebook, Twitter or WhatsApp because the content is geographically organized and useful. Our users have told us that they trust AtmaGo more than government apps like Qlue and Lapor because the content is community generated. Our strategic advantage is hyper local, user-generated content focused on people helping people.
AtmaGo is unique because it works on all kinds of phones and requires very little bandwidth. Because users engage with each other daily around basic needs and challenges, they rely on and trust the information on AtmaGo, knowing that it comes from their own community. People are far more likely to survive serious disasters and address chronic vulnerabilities when they have good social networks and connections.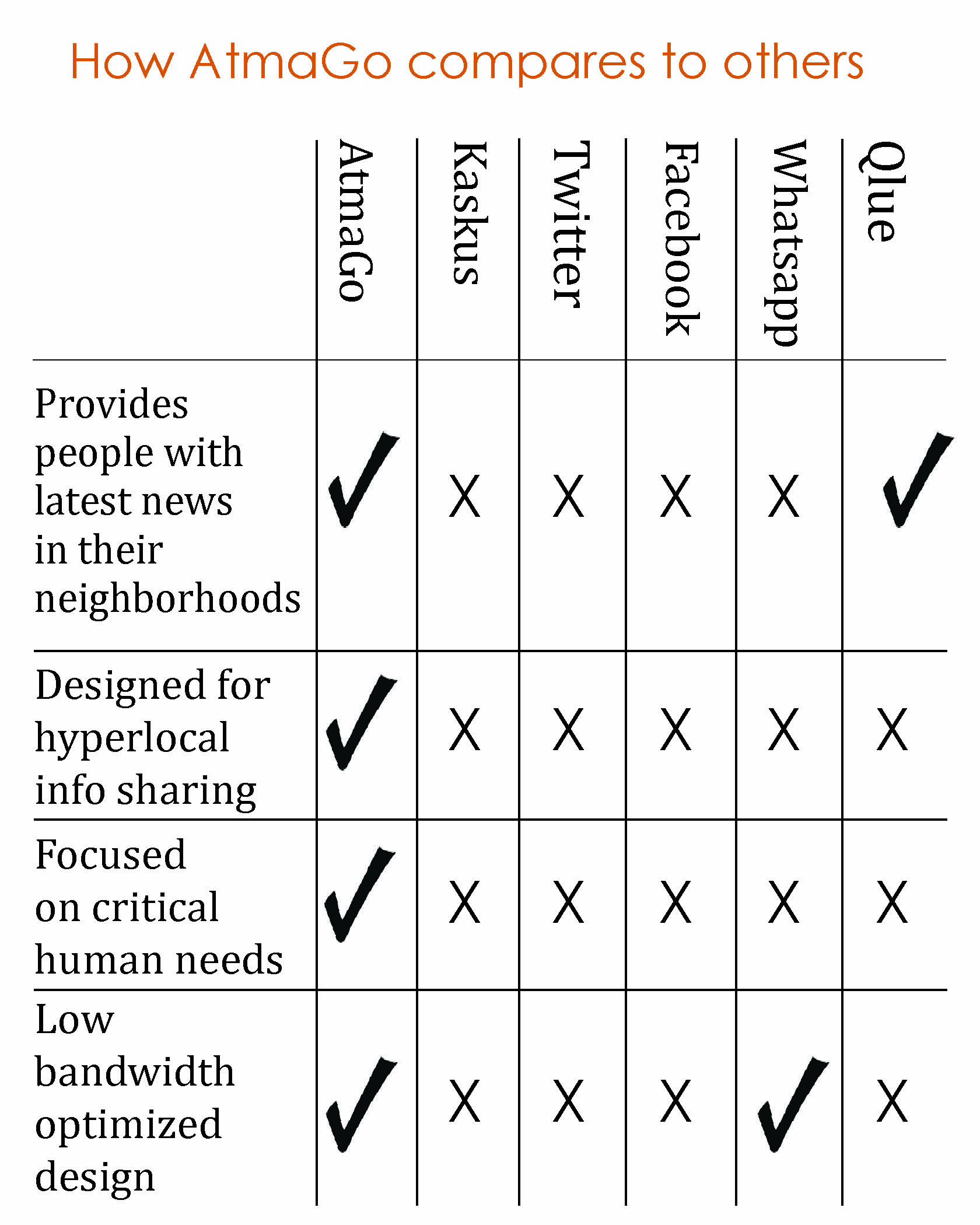 AtmaGo first launched as a way for people to share water prices, but users told us they wanted to share more information than just water prices locally—so we completely changed course and launched a new version.
Join our Team!
If you are passionate about our technology, we would love to hear from you! 
If you have general interest, please email us at atma@atmaconnect.org